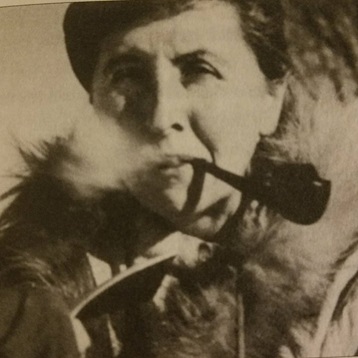 Alfred North Whitehead had three children, two sons and a daughter. It is not uncommon for Whitehead scholars to reference T. North and Eric Alfred. We hear decidedly less about A. N. Whitehead's second child and only daughter, Jessie Marie. This is a shame, as Jessie is perhaps the most interesting of ANW's three children.
As a neighbor put it, "Jessie proved to be quite a character—loveable and fun, with a very heavy stutter. She traveled everywhere on her bicycle, even to dinner parties in her evening gown, and always with one of her lovebirds perched on her shoulder."[1] But we should start Jessie's story at the beginning.
Childhood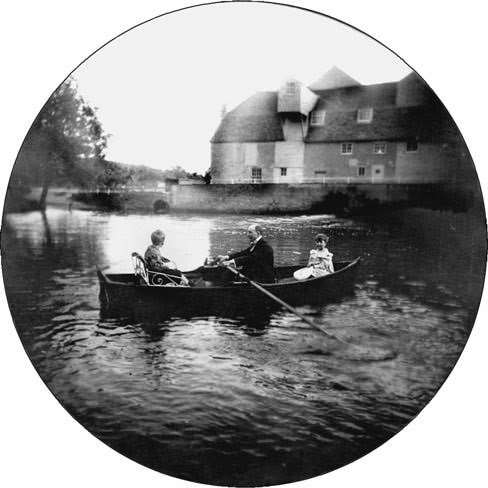 Jessie was born in Cambridge, UK on 23 February 1894 (eight days after ANW's 33rd birthday). According to ANW's biographer, Victor Lowe, "They named her Jessie Marie, after Jessie Wade, an older sister of Evelyn's, the only sister she liked, who had died at eighteen."[3] Lowe recounts the following story:
Shortly after Jessie Whitehead's birth Sidney and Beatrice Webb were home guests. In later years Jessie liked to tell the story that Beatrice Webb said of the new baby, "I hope she will prove a useful tool." That hope was quite misplaced.
It came evident that Jessie was left-handed. This was the first thing about her that, to her mother at least, was not right. A little later she began to stammer. Jessie told me she thought the stammer began when Mummy tried to make her become right-handed. … All her life Jessie was liable to stammer, although there were times—presumably times when she was under no stress—of unaffected speech. "Now you're trying," her mother would say; whereupon the stammer returned.[4]
As at least part of this tale is reported to have come directly from Jessie, it is worth taking seriously. Further, several other sources corroborate that Jessie had a stutter. What is less clear is whether we should accept Lowe's implication that Jessie had a fraught relationship with her mother.
Of the several dozen surviving letters between Jessie and her mother, all display what appears to be a genuine and even warm affection. It was not uncommon for Jessie to address her letters to "My darling Mummy" (she also wrote to her father as "Darling Daddy"). In a 11 September 1918 letter to her mother, Jessie congratulates her for having been offered a job (these were very lean times for ANW and Evelyn). She concludes the letter "Well good bye darling & good luck to job. From your most loving J – XOXOX". Taken together, the extant letters, which span nearly twenty years' time, appear to reveal the maintenance of a healthy relationship between Jessie and her mother.
Further, some who knew both Jessie and Evelyn well question Lowe's characterizations. For instance, upon his reading of Lowe's biography, Paul Weiss wrote to Lowe to congratulate him "on having produced a needed, illuminating work." However, Weiss continued:
"There is one very serious flaw: you have, I think, quite misconstrued Evelyn. You seem to have accepted Jessie's account of her without questioning. Did you know what a psychiatrist told the Whiteheads about the cause of her [Jessie's] ailment [stuttering]…? [The psychiatrist said that] Their Victorian household was not conducive to the self-esteem of a very bright daughter who might challenge her father and her brothers. …
She [Evelyn] stretched the truth occasionally, never to my knowledge seriously, but Jessie told big ones. Jessie also could control her stuttering, e.g., in the presence of children. You make it sound as if Evelyn were the cause of its continuance.
You have spoiled what would have been a splendidly balanced, judicious, insightful book by not checking your and Jessie's bias against the opinion of those who knew her [Evelyn] better than you and your wife did."[5]
No doubt the relationship between mothers and daughters is always complicated, but the documentary evidence available may warrant a tempering of Lowe's negative characterization.
The Great War
At age sixteen, Jessie moved with the family to Chelsea, London after her father resigned his lectureship at Trinity. Jessie entered Newnham College, Cambridge in 1913, staying in the family's Lockeridge home.[6] The outbreak of World War 1 in 1914 interrupted her studies and she never finished her degree. All of the Whitehead children were active in the war effort, with North serving in the British Expeditionary Force, Eric in the Royal Flying Corp, and Jessie in the British Foreign Service. Specifically, Jessie was a secretary in the British Delegation to Paris, where she served from at least 1917–1921. (The exact dates are not presently known. These dates are inferred based on existing correspondence.) During her time in Paris she, along with the rest of the British Delegation to Paris, lived in the Majestic, a beautiful old hotel near the Arc de Triomphe.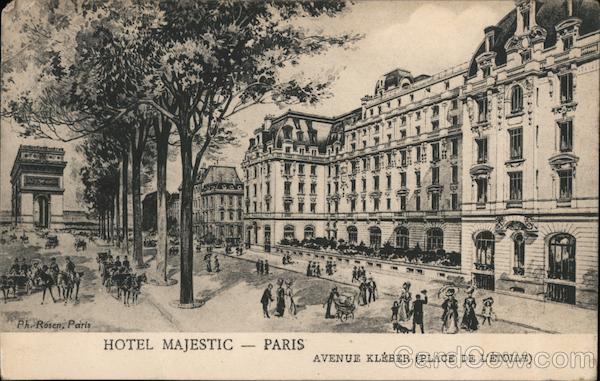 While living in Paris, Jessie frequently met with Gertrude Stein and her partner Alice Toklas who had years before become close family friends. Indeed, it was at the outbreak of the war in July of 1914 that Stein and Toklas came from Paris and ended up staying with the Whiteheads in London for six weeks. Much of Jessie's surviving correspondence is from her to Stein or Toklas, and these letters reveal that the Whiteheads, Stein, and Toklas remained close family friends.
In a letter from Evelyn to Stein, dated 23 January 1917, Evelyn relays that her eldest son, North, who was at that time serving in the British Army in Africa, was very ill with malaria and that her younger son, Eric, had just joined the Royal Flying Corps at the age of 18. Eric's tragic fate is described by Jessie in a subsequent letter to Stein in 18 March 1918:
"Eric has been missing since the 13th. I give you the words of his C.O. 'He went out on patrol with 5 others this morning & was last seen by one of the other pilots diving at a 2 seater enemy machine, & his wings were then seen to break. The other pilot was himself engaged in a fight at the time & cannot be very definite as to what was the cause but there is not doubt that either the enemy observer shot his planes away or that they had been damaged A.Q. fire which the patrol went through a few minutes before. I am afraid that I would not be justified in raising hopes by saying that I had any hope for his safety.'"[7]
The largest cache of surviving letters by Jessie (totally 35 in number) are from 1919, the last year of the war. Often the letters are arranging times to meet or passing on family news. But at times she discusses with her correspondents her work with the British Foreign Office and some of the famous people with whom she intersected. For instance, in a letter to her mother in the spring of 1919, Jessie mentions seeing King Feisal I of Iraq in the lounge of the Majestic.
"I meant to write to you and go to bed immediately after dinner, but this laudable ambition was frustrated by the vision of the Sharif Emir Faisal at dinner, with a gold Arab crown on his head, a white headdress, with a gold & jeweled sword stuck through his belt & a blue camels hair cloak that swept the ground" (24 March 1919)
She even includes a very nicely drawn portrait in pencil of "King Feisal talking to Miss Bell."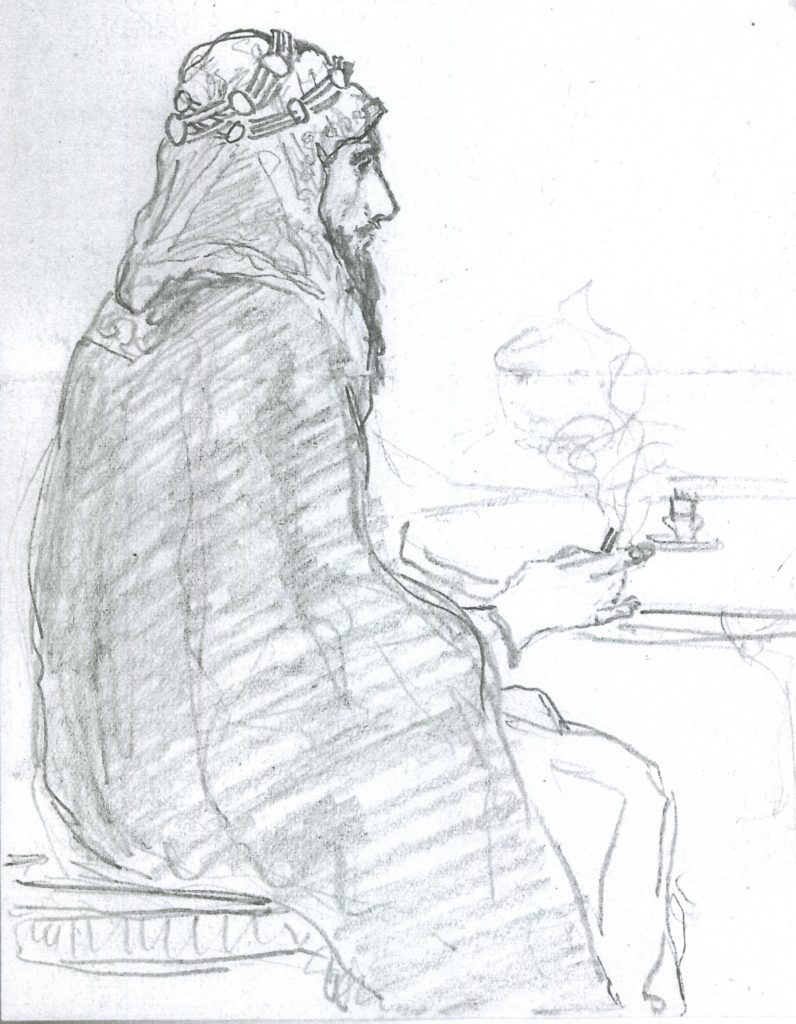 In a letter to Alice Toklas in July of the same year we learn that she subsequently named one of her two pet turtles after the king, writing that "Lawrence & Feisal are doing very well on cold veal, but have developed a horrid taste in large moths. They leave the indigestible parts (including the eggs!) but they're like tigers about the rest" (10 July 1919). A month later, Jessie reports to Alice that "My turtles now come when whistled to, eat out of my hand & croak upon demand. I'm afraid their education is complete" (11 August 1919). That winter, Jessie also updated her mother on the status of her shelled companions, revealing that she continued to name them after famous people she met while participating in the Paris Peace Conference.
"Feisal began to fret & wouldn't eat, so I had to replace Lawrence by Gen Haddad Pasha (the Arab delegate at the Hotel) & at the same time I got a very much bigger one to look after them (Gen Allenby), they immediately fell passionately in love with him & Allenby now swims about with Haddad on his back & Feisal clinging to his tail."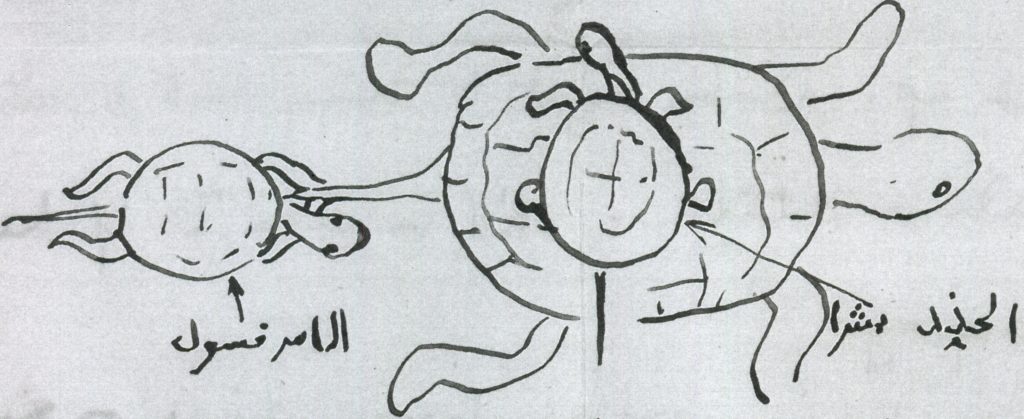 In this rather endearing drawing we also see evidence of Jessie's skill with other languages. Not only was she fluent in English and French, but apparently she also could at least write Arabic. These skills with language would become important later in securing her a job at Harvard's Widener Library where she was reported to have worked on Sanskrit texts. Indeed, according to the memoir of one of her neighbors, Jessie was at that time "one of only about sixteen people in the [western] world who was comfortable and knowledgeable in Sanskrit."[8]
Jessie's letters from 1919 reflect that she was heavily involved in the Versailles Peace Conferences that ended the war and created the League of Nations. In a letter to her father that fall she mentions that she had been reading a book, Behind the Scenes at the Peace Conference, complaining that:
"The author was not behind the scenes but in the lounge of the Majestic, at the Plenary sessions and at the Maison Dufayel — he is amusing on all three. His accounts of negotiations are therefore absurd and entirely based upon well or ill found gossip about more or less satisfactory incidents" (20 November 1919).
In a letter to Toklas in July of 1919 we learn that she tried and failed to get tickets for the Victory Parade on July 14. Apparently Jessie had a ticket as a member of the British Delegation, but could not secure seats for Toklas and Stein. However, in a second letter she reports that she is instead able to secure seats on the roof of her hotel, from which they could see the procession down the Champs-Élysées to the Arc de Triomphe.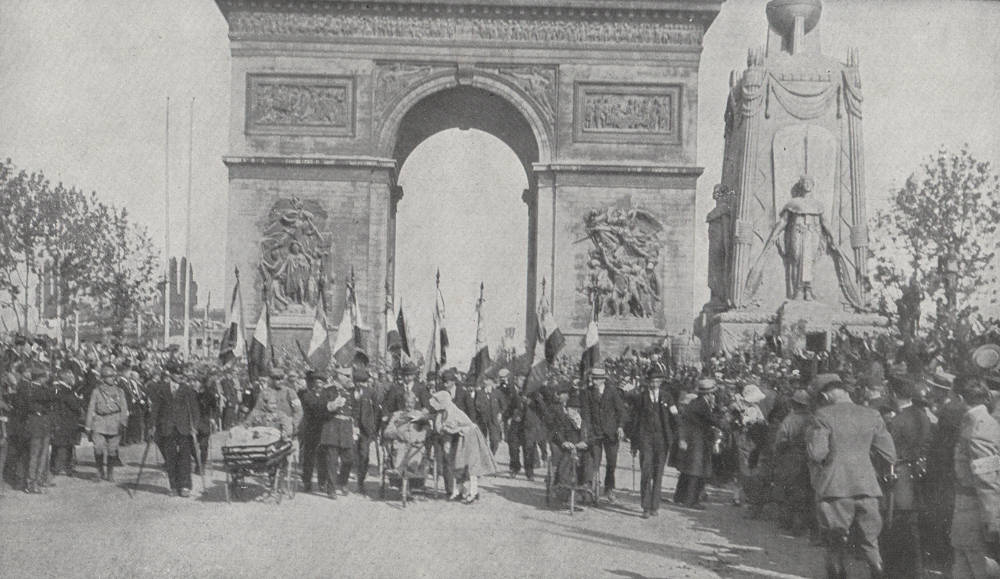 Jessie continued to work for the British Delegation in Paris for several more years after the end of the war, discussing in her letters, among other things, the concerning spread of Bolshevism and ongoing deliberations related to post-war carving up of the middle east.
Mountaineer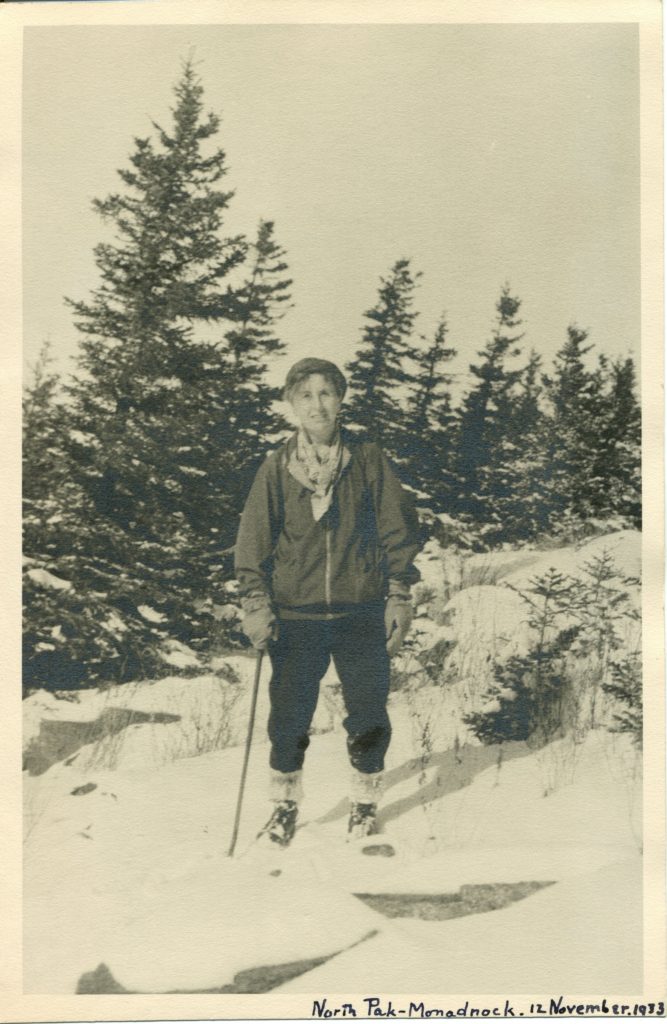 When her father moved to America to accept a position at Harvard University, Jessie joined them a year later in the summer of 1925 at the age of 31. During this period of her life Jessie became an expert mountain climber, making summits all over North America and Europe. For instance, in 1931 she was in the Swiss Alps and wrote a long letter to her mother detailing her many climbing adventures and asking her for $150 (approximately $2500 in 2019 dollars). Much of the letter recounts an exciting climb of the Dom (14,911 ft). Because of a number of challenges during the summit, she and her guide, whose name was Biner, "climbed the highest mountain in Switzerland twice in one day by three routes."[9]
In many ways, Jessie was the only of Whitehead's children to have earned a reputation of her own, coming to be seen by the New England climbing community as a pioneer. The following is the entry dedicated to Jessie in When Women and Mountains Meet: Adventures in the White Mountains by Julie Boardman:
Although she was a native of Cambridge, England, the colorful Jessie Whitehead deserves to be included in this group. The daughter of mathematician Alfred North Whitehead, Jessie Whitehead came to the United States when her father joined the Harvard faculty in the mid 1920s. She settled in Cambridge and worked as a cataloger at one of the Harvard libraries, where her skill in Arabic languages was an asset. A witty, pipe-smoking eccentric, Whitehead joined the AMC [Appalachian Mountain Club, founded in 1876] soon after arriving in this country and became an avid climber.
Whitehead participated in many AMC rock climbing trips, and in 1928 she was part of a group that pioneered a challenging route on the Pinnacle in Huntington's Ravine. Over the next few years. She used her rock climbing skills to ascend mountains in the Canadian Rockies and the European Alps.[10]
Jessie's climbing career came to an end rather abruptly in 1933 when she fell head first hundreds of feet during an ice climb up Mount Washington in New Hampshire. Incredibly, she survived.
"Pipe smoking was not a common pastime among females in 1933. Neither was heading off to the mountains for hiking and rock climbing trips. Unless of course, you were Jessie Whitehead—a woman ahead of her time, and master of all things adventurous.
Whitehead, a Cambridge, Mass., resident, we [sic] beyond eccentric. Often seen with a tobacco-laden pipe dangling from her lips, she navigated Harvard Square in much the same way she did in the White Mountains—with assuredness and ease.
But swaggering confidence, climbing ability, and expertise do not guarantee smooth scaling along Mount Washington's walls. And Whitehead was no exception.
According to Appalachia [Mountain Club], Whitehead and Walter Sturges had taken a 400-500 foot dive in Huntington Ravine, with Whitehead landing an extra 100 feet below Sturges. Miss Whitehead was terribly cut about the head.
Stitch Callender witnessed the accident (his friend stayed with the victims) and took off to gather Joe Dodge at Pinkham Notch Camp for help. He ran into Brad Washburn who fashioned a stretcher out of spruce poles and carried her out to Dr. Harold Schedd in North Conway. She made a marvelous recovery.
Her descent down Huntington Ravine (headfirst) secured her place in the Appalachian Mountain Club's history books, and exemplifies how quickly situations can change in the White Mountains."[11]
In Yankee Rock & Ice: A History of Climbing in the Northeastern United States by Laura Waterman, Guy Waterman, and S. Peter Lewis, they describe her thus: "Jessie Whitehead was a colorful figure, with wit and temper to enliven any rope she was on; Ken Henderson recalled vividly that she 'could push the leader up with a good string of profanity.'"[12]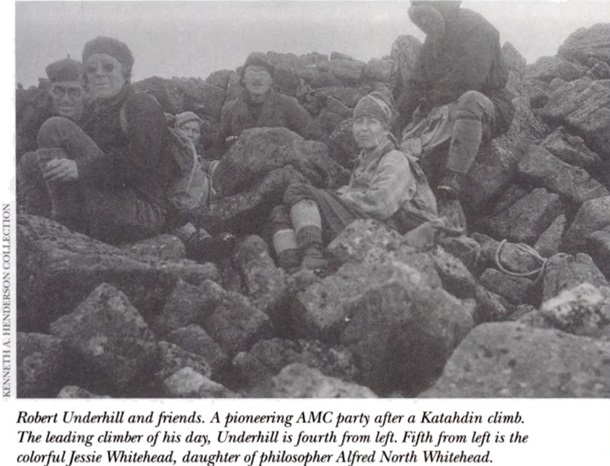 Cambridge Queer Community

In addition to her respected role within the New England climbing community, in Cambridge, MA, Jessie also became a fixture in what would now be called the LGBTQ+ community. Douglas Shand-Tucci details some of that role in The Crimson Letter: Harvard, Homosexuality, and the Shaping of American Culture.[13] He describes Sunday afternoon meetings at the Charles Street Meeting House that were "presided over by [Prescott] Townsend[14] and Jessie Whitehead" where the famed poet Rene Ricard "gave his first public readings."[15]
How dramatically Ricard's life changed in his early years with Townsend (in whose entourage, however, he was ever the star) can be seen in this anecdote of Cathcart's about a blustery, snowy day in the 1960s when Ricard and Whitehead (complete with cockatiels in the hood of her anorak) dined at a restaurant on Beacon Hill's Charles Street:
"He was one of the most intense people, in his youth, that I have ever known. … His restless mind must have been popping all over the place. He had yet to read [Stein's] Autobiography. … When René had blurted out all he had to say—at least he had not asked Miss Whitehead if she ever had heard of Gertrude Stein—Miss Whitehead fixed him with a cold stare, … took a drag on her pipe and began to speak. … 'I introduced Gertrude Stein to a girl, Alice Toklas [Whitehead had brought Toklas to Stein's to tea]…. The following day Gertrude Stein said to me 'I am rather taken with this Miss Toklas and I think that I shall have her live with me.' … I said: 'Well, give it a go, girl, but remember, it can't last forever.'"
In a life time of collecting such stories, never have I come across a better example of the Is-my-face-red School.[16]
Whether Jessie did in fact make such a claim is not clear. What is considerably more clear is that the story is almost certainly false, as Stein met Toklas on 8 September 1907, on Toklas's first day in Paris; Jessie would have been only thirteen years old at the time and living in Cambridge.[17] But outlandish claims of this sort seem to have been part and parcel of Jessie's character, along with her mountaineering, pipe-smoking, and swearing. Hugh Blackmer, who was a Harvard Yearbook photographer in 1964, took the below photograph of Jessie at one of her "morning stops," the Hayes Bickford cafeteria in Harvard Square when she was 70 years old, and recalls several other occasions of her saying outrageous things:
"Hayes Bickford was one of her morning stops (the Starr Bookshop was another), and she often had a parakeet accompanying her. One day there was a mom with baby… Jessie said to her 'Do you know, I would give you one of my birds for that baby…' The mom was (predictably) horrified and left soon after…. Somebody told me (can't recall who) that on her retirement from the Widener library staff she was asked what she would like as a retirement gift. She is said to have said: 'a buzz saw!' but I have no idea if the saw ever materialized."[18]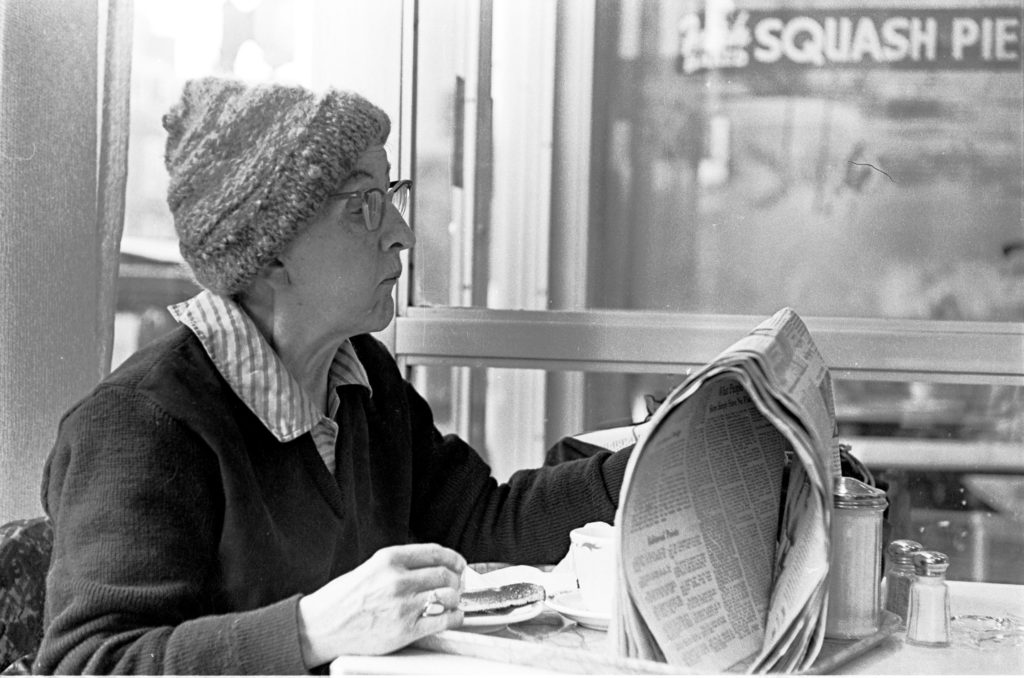 Jessie Whitehead led a remarkable life and was, without a doubt, the most interesting of Whitehead's three children. She died on 1 July 1980, at the age of 86.
*My thanks to Joseph Petek for his assistance in editing and researching this blog.
---
[1] Vera Chvany Hussey-Forbes, My Life, Connected: A Memoir, p. 16 https://books.google.com/books?id=xYkGAQAAQBAJ&pg=PA16#v=onepage&q=jessie&f=false
[2] According to Victor Lowe, the family lived at the Mill House in Grantchester for eight years starting in 1899 (Lowe, Alfred North Whitehead: The Man and His Work, vol. 1, p. 203).
[3] Lowe, vol. 1, p. 183.
[4] Lowe, vol. 1, p. 184; see also Lowe, vol. 2, p. 12.
[5] Letter from Weiss to Lowe, 27 April 1985, published in Paul Weiss, Philosophy in Process, Volume 10 (SUNY Press 1985), p. 231–232. It is worth noting that Weiss was famously acerbic and in this very letter admits to "a leaky memory." Note also that Lowe did not have the benefit of many of the letters that have since been discovered.
[6] Lowe, vol. 2, p. 33.
[7] In a letter to Toklas a year later, Jessie explains that "there is no hope of finding his [Eric's] grave, as that given by the Germans has been identified as that of another man, & from the circumstances of the case it is considered probable that he was either never buried at all, or in a common & unmarked grave. But the first suggestion is the most likely. At any rate we can never know" (19 June 1919). The referenced letters between Jessie and Stein can all be found at the Beinecke Library, Yale University, Gertrude Stein and Alice B. Toklas Papers Series II, Box 130, Folder 2847, https://archives.yale.edu/repositories/11/archival_objects/723543. The Evelyn letter can be found in the same collection, Folder 2845.
[8] Vera Chvany Hussey-Forbes, My Life, Connected: A Memoir, p. 16 https://books.google.com/books?id=xYkGAQAAQBAJ&pg=PA16#v=onepage&q=jessie&f=false
[9] 27 July 1931. We now know that the Dom is not the highest peak, at 14,911 ft, but rather the Dufourspitze at 15,203 ft.
[10] Julie Boardman, When Women and Mountains Meet, 99. https://books.google.com/books?id=_YO3tbsvyk8C&lpg=PA99&dq=jessie%20whitehead%20climber&pg=PA99#v=snippet&q=jessie%20whitehead&f=false
[11] http://www.gayoutdoors.org/blog/show.cfm?id=92
[12] Laura Waterman, Guy Waterman, and S. Peter Lewis, Yankee Rock & Ice: A History of Climbing in the Northeastern United States https://books.google.com/books?id=3LtZKlCrK5gC&lpg=PA18&dq=jessie%20whitehead%20mount%20washington&pg=PA20#v=snippet&q=jessie%20whitehead&f=false
[13] Douglas Shand-Tucci The Crimson Letter: Harvard, Homosexuality, and the Shaping of American Culture, 251-252.
[14] For more on Prescott Townsend, see Mark Krone, "Prescott Townsend: one of most influential Boston gay rights pioneers you've never heard of" http://archive.boston.com/lifestyle/blogs/bostonspirit/2013/09/prescott_townsend_one_of_most.html
[15] Douglas Shand-Tucci The Crimson Letter: Harvard, Homosexuality, and the Shaping of American Culture, 251-252.
[16] Douglas Shand-Tucci The Crimson Letter: Harvard, Homosexuality, and the Shaping of American Culture, 251-252.
[17] Mellow, James R., Charmed Circle: Gertrude Stein & Company, New York, Washington: Praeger Publishers, 1974, p. 107. Also, as already mentioned above, Paul Weiss has said that "[Evelyn] stretched the truth occasionally, never to my knowledge seriously, but Jessie told big ones" (Philosophy in Process, Vol. 10, p. 232).
[18] Email with Dr. Hugh Blackmer, 6 January 2020.
[19] http://oook.pbworks.com/w/page/4236734/whitehead
---
How to cite this blog: Henning, Brian G. "Whitehead's Daughter, Jessie." whiteheadresearch.org. https://whiteheadresearch.org/2020/01/15/jessie-marie-whitehead/