We are very pleased to announce that the bulk of what we are calling "Whitehead's Lost Papers" is now publicly available at the online Whitehead Research Library (WRL). Donated by Whitehead's grandson and heir in early 2019, the papers have now been scanned, cataloged, processed, and uploaded to the WRL.
There was some discussion of possibly sequestering certain of the family letters that were deemed purely private and of no obvious historical import. However, after examining every item carefully, it was determined that none of the items could be considered sensitive, "racy," embarrassing, or otherwise paint their authors or recipients in a negative light, and so no item is being held back for such reasons.
The only items that are not being made publicly available are those that are still under copyright. This amounts to 174 items, most of which (125 items) are reviews of Whitehead's books that were clipped out by various newspapers and journals by a clippings service. The remaining 49 items consist of miscellaneous journal and newspaper articles. While we cannot share these items in full, we are making a list of them available here.
The rest of the papers consist of 487 items. Seventeen had already been shared publicly; the remaining 470 items are being shared now for the first time. All are available for download as PDFs.
>> Click here to browse Whitehead's Lost Papers <<
Original and draft essays
We have said previously that the bulk of the papers are of a personal nature, and drafts of Whitehead's academic work are few and far between. Unfortunately, there are no full handwritten manuscripts of Whitehead's books, for instance.
There are, however, a few papers/addresses that to our knowledge had never been seen before, including "Freedom and Order" and "Religious Psychology of the Western Peoples" (both shared previously), and the manuscript for Whitehead's first Harvard lecture, now published in Process Studies 48.2 and the recently released book Whitehead at Harvard, 1924–1925.
There are also what appear to be drafts for published work, including "Industrial Problems," "England and the Narrow Seas," "Statesmanship and Specialized Learning," and the preface to an unpublished book (see above).
Letters
Unsurprisingly, more than half of Whitehead's Lost Papers consists of letters – 357 of them.
Few are letters by Whitehead himself, as he did not often make copies of outgoing messages. Some of these are likely drafts of letters rather than the versions that were actually sent. One worth highlighting is a letter to James Jeans (see above). Jeans had written in an official capacity about a paper that Whitehead had submitted to the Royal Society entitled "The Theory of the Inertial Field." Two referees had criticized the paper and noted that parts of what Whitehead had written were identical to Einstein's work, so Jeans asked him to revise it. In a fairly scathing response (especially by Whitehead's standards), he replied that
It is evident that the referees have failed to understand the condensed form of the paper and the scope of its argument. Of the three remarks on the paper contained in your letter, two are definitely wrong and the third implies a blunder in principle which I hesitate to ascribe to the considered opinion of the referees if the argument had been clear to them.
Whitehead then withdrew the paper and said that he would publish it elsewhere.
Letters from Evelyn
Fifty letters are from Whitehead's wife, Evelyn, which she typically signed "Pet," while referring to Whitehead as "Darling" or "Altie." They range in date from 1906 to 1933, and appear in clusters of letters for periods during which the two were apart.
For instance, about a dozen letters are dated October 1907, when Evelyn, the three children, and Whitehead's sister Shirley and niece Dorothy were visiting family in Italy and other parts of Europe. They were travelling with some family friends, the Beetons, specifically Evelyn Beeton and Alan Beeton, the wife and son of wealthy banker Henry R. Beeton, who Victor Lowe has speculated may have lent or given the Whiteheads money from time to time (his daughter, Mary Beeton, had also studied with Whitehead at Girton College). Apparently some drama occurred during this trip when Alan Beeton proposed to a girl by the name of Ruth Alice Mary Becher (see Evelyn's letter, above) – who the Whiteheads had taken in for a time, to the relief of her uncle – but it was (as reported by North) broken off shortly after.
Letters from North
Another fifty-two letters are from Whitehead's son, T. North. A large portion of these were written during the WWI, with North apparently in charge of moving a lot of convoys of vehicles and supplies. At one point a truck was almost swept away by a river while crossing a bridge (see above). He also discusses a copy of The Organisation of Thought that Whitehead had sent him shortly after its publication, and talks of meeting a Russian general. A post-war letter has him asking Whitehead for advice in his new role as director of the Science side of the Working Men's College.
Letters from other family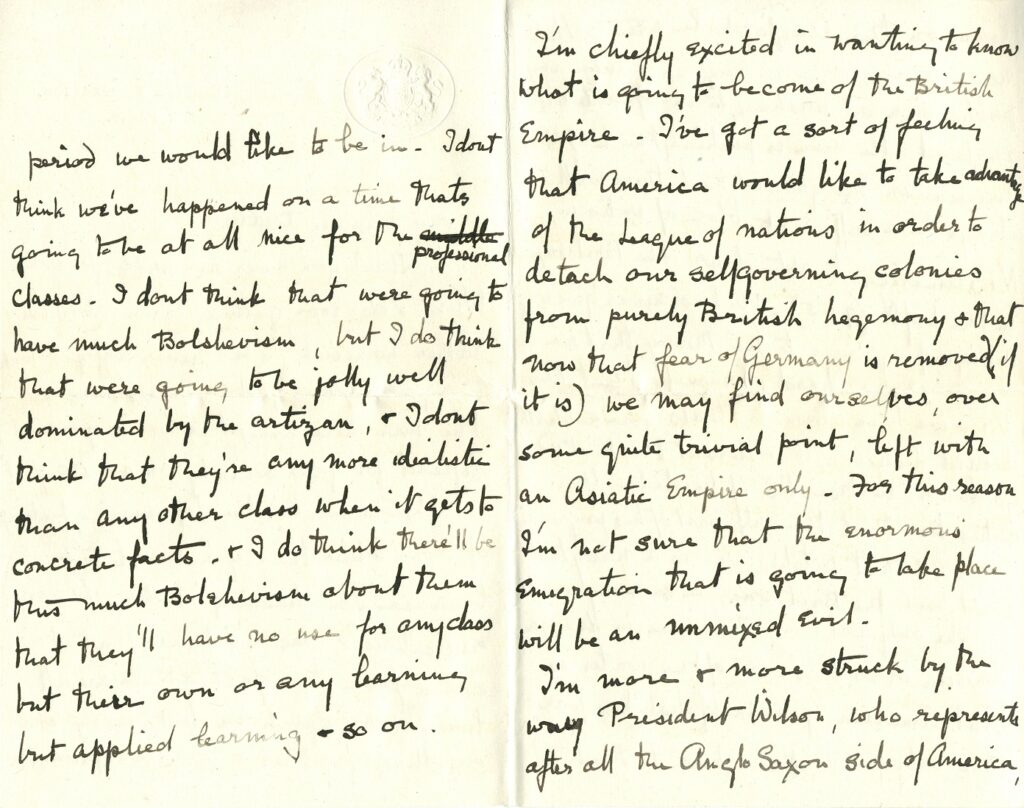 There are more letters from other family members. Some are from Whitehead's son Eric, including one that he wrote about three weeks before his death. About half a dozen are from Whitehead's brother, Henry (Harry), who writes mostly of family, but also of topics such as the prospective self-government of India. Whitehead's daughter Jessie gives her considered opinions on post-WWI international affairs after years of working in the British Foreign Office (see above), and later talks of her climbing adventures. There are ten letters written during WWII from North's wife Margot, who talked of war-time conditions, including what it was like bunking down in an air raid shelter.
Other letters
Then there are other letters not from family members. Most of these are also personal rather than professional; a rather large portion of them are letters of congratulation for his eightieth birthday. But there are some letters more on the professional side, to be sure. Lawrence Henderson writes in January of 1924 that he and the rest of the Harvard faculty are very much hoping Whitehead will decide to join them. Three months later, after Whitehead had agreed to join the Harvard faculty, Edmund Beecher Wilson expresses excitement at his coming. William P. Montage writes a long and remarkable letter expressing shock that the special theory of relativity is apparently true, laying out various doubts and difficulties he has with it (see above).
Other documents
The rest of the papers are a mixed bag. Some are copies of Whitehead's own writings that are now out of copyright. Some are materials relating to his traveling and settling in at Harvard, such as a list of luggage, a list of students, his Harvard library card (see above), and a History exam that was probably given to Whitehead as a model for drawing up his own Harvard exams. There are about two dozen royalty statements for Whitehead's books, such as this one from Cambridge University Press. Some are old possessions of Eric's, such as his math notebook.
Conclusion
With almost five hundred new items available for examination, we cannot possibly touch on them all here. But we hope we have given a sense of the contents of Whitehead's Lost Papers, and that scholars will enjoy exploring the rest of them.
If you wish to cite any of these materials, there is citation info at the bottom of each item's page. And if you have a question about any of the papers, please get in touch with us via the WRL's contact form.
The work of searching for, transcribing, and editing archival materials is time-consuming and costly. If you are able to support our work with a donation, it would be much appreciated. Just follow this link. We could particularly use recurring monthly donations as a reliable source of funding.
---
How to cite this blog: Petek, Joseph. "Whitehead papers now available online." whiteheadresearch.org. https://whiteheadresearch.org/2020/04/09/whitehead-papers-now-available-online/