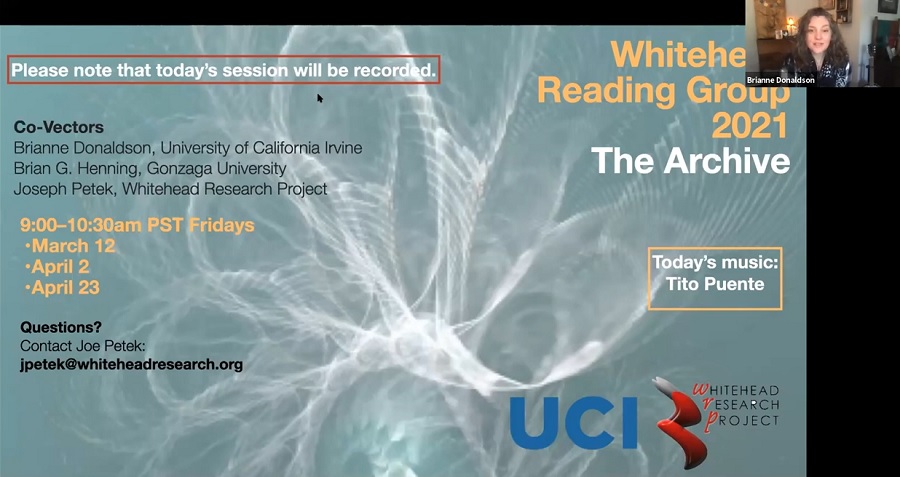 This is our first update since the publication of the second volume of the Critical Edition, which covers Whitehead's second and third year of Harvard lectures. It was published in late January in the UK and in late February in the US. For a limited time, the book is available through EUP's website with a discount of 30% using the discount code "NEW30" at checkout (this still works as of this writing).
We have announced a virtual conference to discuss the significance of the newly published volume, which will take place on September 17–18. Follow this link to register for the conference (free). We hope you will consider submitting a paper proposal for the virtual conference (proposals are due by June 30).
Other than the long-awaited publication of this second Critical Edition volume, the most noteworthy news for this quarter has been the great success of the Whitehead Reading Group. The group has drawn more than 160 registrations, with 40–60 people attending each session. So far, we have discussed Whitehead's first Harvard lecture, his address "Religious Psychology of the Western Peoples," and his address "Freedom and Order" in 90-minute sessions. A fourth covering three letters to Bertrand Russell will take place this Friday.
When we received requests for recordings of the reading group sessions from people who were unable to attend them, we began recording the sessions starting with the second meeting, and created the brand new WRP YouTube channel to house the recordings. To this we have also added all the recordings of past WRP conferences that were immediately available to us. Some other conference recordings currently only exist on physical media, and may not be added for some time.
We conducted our annual search for new Whitehead archival materials last month, and discovered a few odds and ends. Three letters from Dorothy Norman to Whitehead tried to convince him to contribute to her newly created literary magazine, Twice a Year (apparently she was unsuccessful). A letter from the Stewart Mitchell papers shows Whitehead refusing to review a posthumously published book by William James (edited by Whitehead's colleague, Ralph Barton Perry), saying that he thought a native New Englander should review it instead. Finally, we thought we had a line on a pair photos of Whitehead together with T.S. Eliot, but it appears that someone had been misidentified as Whitehead in the photos.
In the meantime, the slow work on future volumes of the Critical Edition continues. We are still in the midst of verifying essays for the first volume of Whitehead's collected papers against their originals in preparation for the later phase of critical editing. Editorial assistants continue to transcribe student notes slated for a fifth volume of Harvard lectures. If at any time you want to have a sense as to where the various volumes of the Edition stand, refer to the main page of the Critical Edition. There you can find an itemized list with specific information on the status and timeline for each volume.
The work of searching for, transcribing, and editing archival materials is time-consuming and costly. If you are able to support our work with a donation, it would be much appreciated. Just follow this link.
Yours in the creative advance,
Brian Henning, Executive Editor
Critical Edition of Whitehead
Professor of Philosophy,
Gonzaga University
Joseph Petek, Assistant Editor
Critical Edition of Whitehead