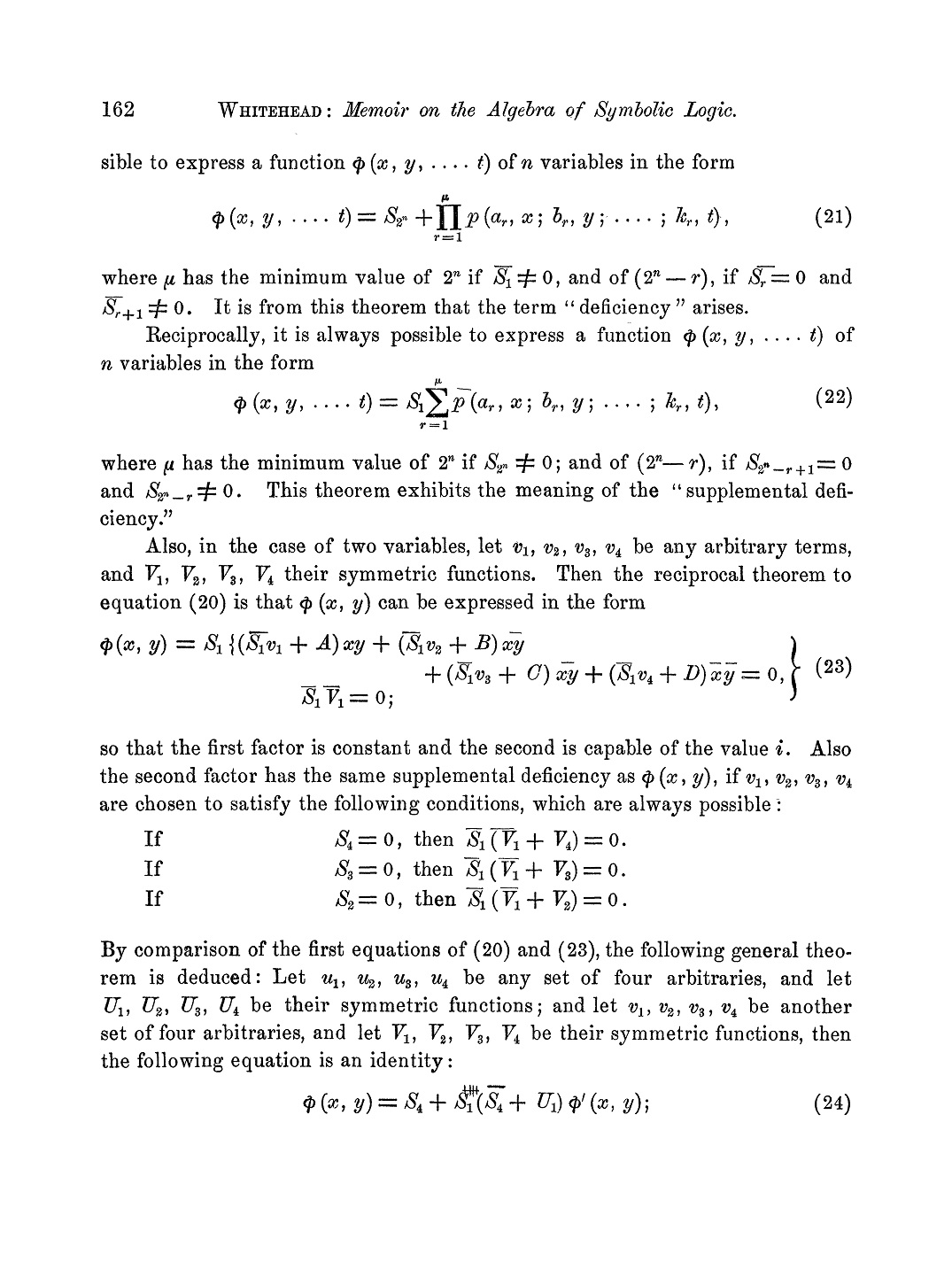 We are excited to begin this quarterly update by announcing that Brian G. Henning and Joe Petek have been joined by Dr. Robert J. Valenza as a named editor for the first volume of Whitehead's Collected Papers (CP1), which will include all of Whitehead's published and unpublished articles written between 1886 and 1918. Dr. Valenza is the Dengler-Dykema Professor of Mathematics and the Humanities at Claremont McKenna College, a member of the Edition's Editorial Advisory Board, and had previously helped review math- and logic-heavy portions of the second volume of Whitehead's Harvard lectures (HL2).
Dr. Valenza has joined the editorial team for CP1 in order to critically edit Whitehead's math and logic articles of the late 1800s and early 1900s, before his career turned to philosophy. He has already been an enormous help in detecting a surprising number of errors in the original articles, which by all appearances were never checked very thoroughly.
We have even, bizarrely, found a "correction" made to the version of Whitehead's 1901 "Memoir on the Algebra of Symbolic Logic, Part 1" that appears on JSTOR (pictured above)—a struck-out overbar. We have determined that the correction is accurate, though we do not know who made it, or how it was cataloged in JSTOR with non-original markings, and it is curious that it is the only such correction made when so many other errors were present. This is just one example of some of the strange things that crop up when doing this kind of editorial work.
At present we continue to verify and correct the transcriptions of essays intended for CP1, which remains slow and exacting work, but now with Dr. Valenza's help, we are making good progress. We think it likely that we will contract the volume with EUP before the end of the academic year.
We have had some shifts in our editorial assistants. Jenna Petsche, who has worked with the project since 2019, has gotten a new job. She will continue to work for the Edition for the time being, but with reduced hours. In the meantime, we have hired a new Gonzaga graduate student to help continue transcription work. Happily, we hit a new milestone this past quarter by completing initial transcription for the fifth volume of Harvard lectures (HL5). Initial transcription of the sixth and final volume of the Harvard lectures will now be the focus of their work.
An Editorial Advisory Board meeting was held on September 13 to discuss Edition progress and current editorial challenges. Dr. Nicholas Griffin reported that he is still at work on the first volume of Whitehead's correspondence, i.e., the letters written between Whitehead and Russell while they were working on Principia Mathematica. Griffin continues to make progress on the volume amidst other project commitments, and hopes at some point to clear other work off his plate and make the volume his focus until it is finished.
One specific issue that the Board discussed at some length was the prospective handling of Whitehead's 1916 article "La Théorie Relationniste de L'Espace." This is an odd case because it appears that Whitehead wrote the article in English and had it translated for publication in Revue de Métaphysique et de Morale, but the English version has not survived. A translation was done in 1978 by Patrick J. Hurley, and we discussed the merits of adopting this translation versus commissioning a new one. We are currently leaning in the direction of using Hurley's translation for the Edition, but not before a careful review by a Whitehead scholar with a very strong command of both French and English.
A reminder that a virtual conference to discuss the significance of HL2 is planned for September 2022. Papers presented at the conference will also be eligible for consideration for inclusion in a special issue of Process Studies that will focus on HL2. We encourage you to consider submitting a paper proposal for the conference. Follow this link to register (free).
Finally, we must regretfully report that our proposal for NEH funding has once again been turned down. We continue to search for additional grants and other sources of funding.
The work of searching for, transcribing, and editing archival materials is time-consuming and costly. If you are able to support our work with a donation, it would be much appreciated. Just follow this link.
Brian Henning, Executive Editor
Critical Edition of Whitehead
Professor of Philosophy,
Gonzaga University
Joseph Petek, Assistant Editor
Critical Edition of Whitehead