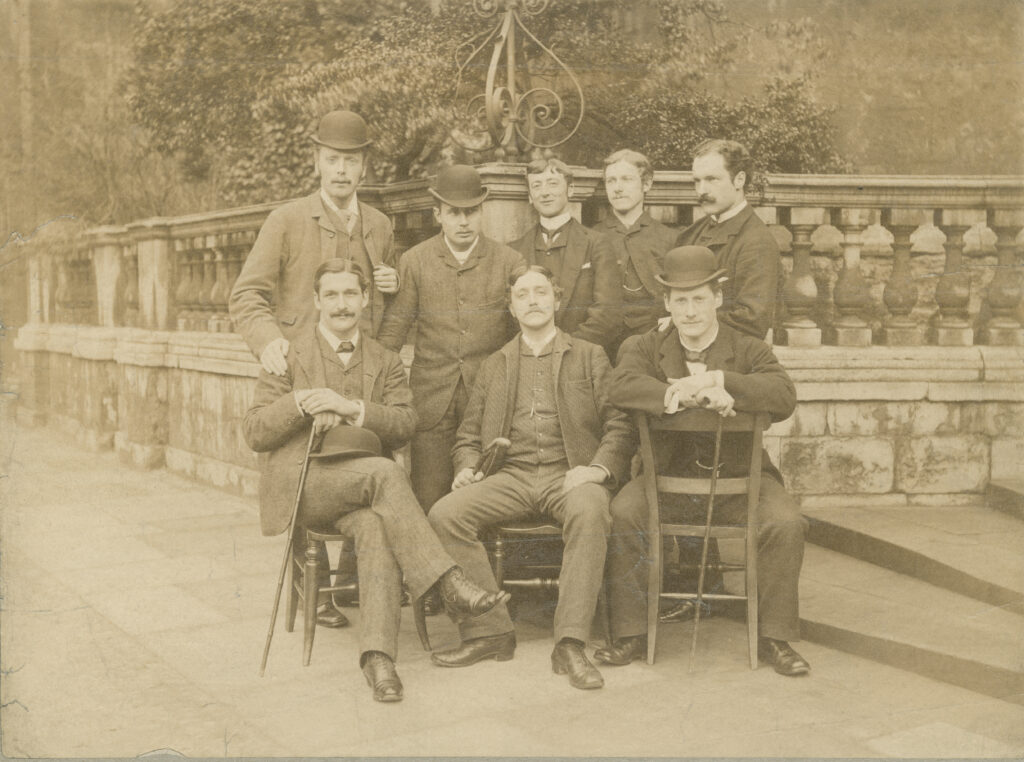 This is a more exciting update for us to write than usual, primarily because of some new archival discoveries.
The most important of these is undoubtedly Whitehead's paper "Sets of Operations in Relation to Groups of Finite Order." An abstract of this paper had been published in the Proceedings of the Royal Society of London in 1899, and until now we had believed the full paper to be lost. But incredibly, we discovered in January that the full paper was still held in the Royal Society Archives. It is 82 handwritten pages, plus a cover page.
The reason the essay had never been seen before is that the referees at the Royal Society recommended against its publication. One of these referees, William Burnside, started his report by writing that "It is quite clear that Mr. Whitehead is not acquainted with G. Frobenius's Memoir 'Über endliche Gruppen'." The referenced article was published four years earlier, in 1895. Burnside then goes on to say that Whitehead's paper is basically redundant as a result; publishing it under such circumstances would have opened Whitehead up to charges of plagiarism. Nonetheless, there is little doubt that Whitehead arrived at his results independently, and so the article represents a missing piece in Whitehead's approach to Boolean algebra. It is also the only Whitehead article we possess—apart from a few short obituaries—that is the handwritten original.
Nor is this article the only important archival find we've made in the first part of this year. First, there were a number of other new materials from the Royal Society archives, including the photo at the top of this update, as well as referee reports written by others on Whitehead's work, and referee reports written by Whitehead on the work of others. There was even a four-page response by Whitehead to referee critiques of his "On Mathematical Concepts of the Material World."
All of this will find its way to scholars through the Critical Edition. The original article will appear in the first volume of Whitehead's Essays and Articles, while the referee reports will eventually appear as part of a volume of Whitehead's Collected Papers. Letters to and from Whitehead will, of course, appear in a volume of Correspondence.
In addition to these materials from the Royal Society, we have recently been acquiring copies of more of the papers of Victor Lowe, Whitehead's biographer. Those who have followed the Critical Edition project closely will know that Lowe's research formed the foundation of our work; while we have since discovered many things which Lowe never saw (aided by the ongoing digitization of many of these materials), Lowe had spent decades collecting archival Whitehead material, and so his papers at Johns Hopkins got us off to a fine start.
Due to our limited funding, until now we had asked the Johns Hopkins archives only for reproductions of the Lowe papers that were definitely primary source material, since acquiring copies of the entire collection was prohibitively expensive. But we recently decided that there is simply too much potentially illuminating material in Lowe's papers to ignore, and so we've bitten the bullet and hired two philosophy students at Johns Hopkins to scan any remaining materials that have any potential to be of use to our project. To give a sense of the scale, one of these students recently finished scanning the entirety of Box 2.8 in Lowe's papers—which contained a portion of his correspondence with Whitehead's American acquaintances—and it amounted to 3,118 pages. There are about a dozen more boxes that remain to be scanned.
Already this scanning has borne some important fruit. For instance, there is a pamphlet titled "Liberty and the Enfranchisement of Women"—an extract of a speech that Whitehead gave in support of women's right to vote—that Lowe had acquired and which was published in Process Studies in 1977, but we had never seen the actual original. It had been misfiled in Lowe's papers under "British Correspondence and Interviews," along with supporting materials concerning the Cambridge Women's Suffrage Association, the Men's League for Women's Suffrage, and the Liberal Women's Social Council, the last of which Whitehead was chairman of for a time.
There is also much in Lowe's correspondence with Whitehead's friends and colleagues that reveals tidbits about his life and opinions that can now be found nowhere else. We have not even begun to process it all. But there are, for instance, about fifty pages in a file of correspondence with Raphael Demos, Whitehead's first teaching assistant, on whom we recently wrote a blog. There are too many others to mention here, but we are excited to begin digging through it all.
Moving on from archival acquisitions, in late January we announced that Joseph Petek has been promoted to Associate Editor of the Edition and will now work full-time. In addition to having more time to do the above-mentioned cataloging, we are hopeful that increasing Petek's hours will help lead to an acceleration of Critical Edition volumes being published. We remain in the midst of editing the first volume of Whitehead's essays and articles and hope to submit a completed manuscript to Edinburgh University Press by the fall, and we have already begun verification of transcriptions for the second volume, which we hope might be published only about a year later. At any time you can find a running timeline of our projects on the Edition's homepage.
We want to remind everyone that a free virtual conference exploring the significance of the recently published second volume of Whitehead's Harvard Lectures (HL2) is scheduled for September. You can find more information about it here. We invite responses to our call for papers. Papers presented at the conference will be eligible for consideration for inclusion in a special issue of Process Studies that will focus on HL2. Note: the due date for paper proposals is June 30, 2022, about three months hence.
Also, the first volume of Whitehead's Harvard Lectures (HL1) has just been released in paperback! You can now buy it for $45, but use the code "PAPER30" at checkout to get 30% off. Additionally, our anthology of essays on HL1's significance was published in paperback late last year for $25; the same coupon code works for this book as well.
The work of searching for, transcribing, and editing archival materials is time-consuming and costly. If you are able to support our work with a donation, it would be much appreciated. Just follow this link.
Brian Henning, Executive Editor
Critical Edition of Whitehead
Professor of Philosophy,
Gonzaga University

Joseph Petek, Associate Editor
Critical Edition of Whitehead